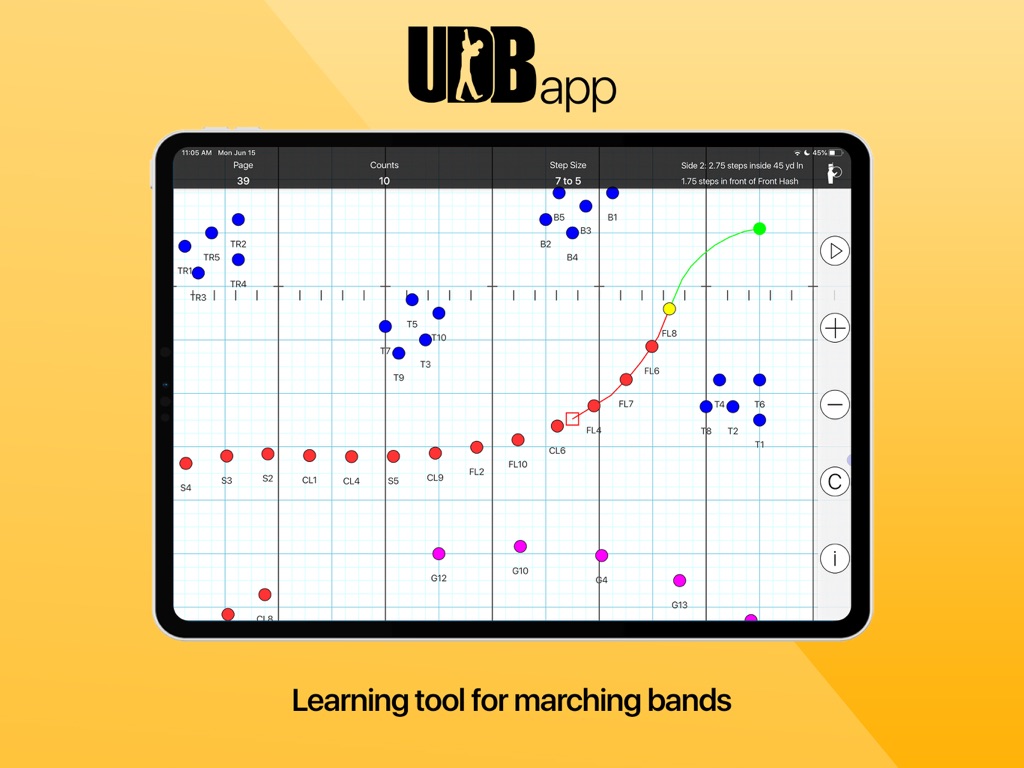 ULTIMATE DRILL BOOK
Import your drill directly from Pyware 3D.

Features for Students
– Watch the drill animation while listening to the music from any perspective (performer or director).
– View your individual coordinate sheet for sets in a song or counts in a set.
– Follow your drill count by count with live updating coordinates.
– UDB view shows curved and straight-line path information for previous and next sets.
– Student leadership can access everyone's drill information.
– Learn and clean drill in seconds after it's been exported from Pyware by the designer.

Features for Directors and Staff
– Tap any performer to view coordinate and UDB view information.
– Change field perspective (performer/director).
– Easily add/delete/edit drill files in your ensemble's account directly from your app.
– Learn and clean drill in seconds after it's been exported from Pyware by the designer.

Sheet Music Integration
– Import music and scores from cloud services like Dropbox and Google Drive or take a picture.
– Sync the drill and music with drill tabs.
– Annotate music with integrated icons and helpful tools.

Differentiators
– Phone layout designed for one handed use
– Easily find your midway points and yard line crossing counts
– Easily switch between custom views

TAP ID
Tap ID allows directors to see the performer labels that your students have selected. Simply tap on a performer's dot while viewing the drill to see their name and photo. Multiple students can select a single performer label so directors can easily see and manage alternates, shadows, and primary performers.

CALENDAR + ATTENDANCE
See your full rehearsal and performance schedule, check-in to events, and track attendance throughout the season.

Here's how it works:
1. Director syncs a Google Calendar with UDBapp Pro
2. Students are invited to the events (rehearsal, bus check-in, performances, etc.)
3. Geofence marks check-in area
4. Students must be within the geofence boundaries and have UDBapp Pro open to check-in
5. Live updated roster shows you who is Absent, Present, or Tardy
6. Export timestamped data to a spreadsheet to easily organize student attendance records

OFFLINE MODE
Offline mode allows a director to restrict access to Ultimate Drill Book if selected users are connected to the internet. If not activated, all users will be able to access Ultimate Drill Book even if connected to a WiFi or cellular connection.